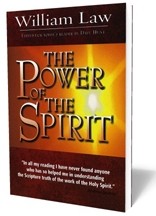 Unfortunately this article has come about due to over 100 comments that were placed under another article on Calvinism.  The comments started where someone mentioned a book that was written by Dave Hunt called:  The Power of the Spirit that was re-edited from Andrew Murray's book of the same name, but originally was derived from the works of  William Law: The Address to the Clergy.  William Law was later in his life influenced by Jakob Boehme a German Christian mystic / theologian
Now it pains me so to have to put up this article because there are very troubling quotes within The Power of the Spirit  a book written 42+ years ago.   DTW is not against Dave Hunt because I can't fault him on any of his doctrine.  But this little book, and little it is, is problematic.
I contacted Tom McMahon from The Berean Call who said to me, "anything he has written or recorded that is contrary to the Scriptures and we will consider it and make corrections where they are necessary."
So I emailed off a couple of quotes from The Power of The Spirit, and asked Tom to have a look at them and come back to DTW – I show these emails in the comment section below.
Please note that the comments below are very negative against Dave Hunt, and some of the things he has been accused of are ridiculous and stems from pure nit picking on behalf of those commenting.
Please do read all the comments right to the end to find out what happens in this gripping saga;  'the life of Dave Hunt…on DTW'.
*** I will be moving all the comments from the Calvinist article over to this article.  In the mean time please comment here and NOT under and Calvinist articles unless you want to speak about Calvinism.