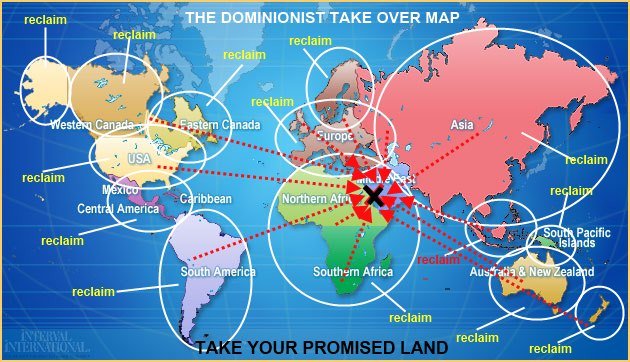 A shocking article from Joy Magazine, Nov 2009 issue below.  Dominionism explained at its best by Dominionists.  Nothing better to get information straight from the horses mouth.  At least no one can claim I am making this stuff up. 
And if you notice people, Latter Rain/Word of Faith movement does not believe in a rapture because the entire ungodly idea is that you 'the people' need to reclaim the earth.  In the process they end up marching to reclaim Israel for themselves too.  It starts off with spiritual warfare and ends up in civil warfare.
Thank Jesus, that He is coming back BEFORE it gets out of hand.  I pray that if you are caught up in this vile false Christian teaching that you get out of it now and go back to the Word of God. Ask Jesus for forgiveness for not listening to Him hence you were led astray through disobedience to His Word. Get back on the narrow path.  Time is of an essence, in other words there is not much time left to recline in your chair and ponder your future.
"The devil seems to be winning new ground while the Church of Christ retreats even further into its sanctuaries hoping the Lord will come and take us to Heaven out of here! But that is not going to happen, because the 'Dominion Mandate' does not include the option to hunker down fearfully in our religious cocoons hoping the bogey man will go away and leave us alone."
Permission received by Prof. Johan Malan to re-print below article in full.

→ PLEASE CLICK HERE TO CONTINUE READING: South Africans Reclaiming That Dominion Mandate To Dominate THEN PLACE A COMMENT ←