Emergent Mysticism: A biblical appraisal of the Mosaic Congress – Mosaic Church, Johannesburg (4-5 Sept. 2009) – Part 3
Session 2: "Transfiguration: Up and down the mountain" by Trevor Hudson
.
On the second page of their very smart and glossy programme booklet that was handed out to the congressional participants and public during the Mosaic Congress, there is a quote by Thomas Keating which reads as follows:
A new formulation of the spiritual journey for Christians is urgently needed today that will be faithful to the Scriptures and tradition but is expressed in contemporary language and understanding (Emphasis added).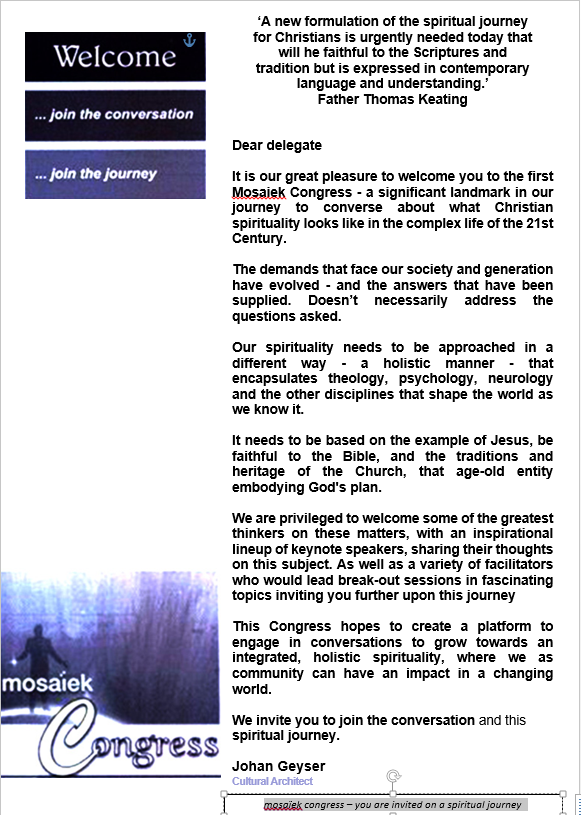 Johan Geyser takes the relay stick from Keating's hand and continues to run with the idea of a new formulation of the spiritual journey for Christians when he says:
Dear delegate

Our spirituality needs to be approached in a different way – a holistic manner – that encapsulates theology, psychology, neurology and the other disciplines that shape the world as we know it.

It needs to be based on the example of Jesus, be faithful to the Bible, and the traditions and heritage of the Church, that age-old entity embodying God's plan. . . .

This Congress hopes to create a platform to engage in conversations to grow towards an integrated, holistic spirituality, where we as community can have an impact in a changing world (Emphasis added).
→ PLEASE CLICK HERE TO CONTINUE READING: Emergent Mysticism – Part 3 THEN PLACE A COMMENT ←