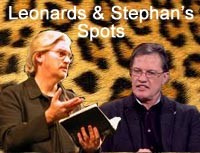 The Bible is the most amazing, most awesome and most wonderful book ever written. No other book foretells and describes future events so accurately than the Bible. It even foretells how Stephan Joubert of ekerk and echurch fame will not be able to change his spots despite his emphatic denial that he and Leonard Sweet no longer bear the spots of the Emergent Church critters.
Jeremiah 13:23 Amplified Bible (AMP)

Can the Ethiopian change his skin or the leopard his spots? Then also can you do good who are accustomed and taught [even trained] to do evil.
Who could have guessed that not only the Bible but also a kiddy's story written by Rudyard Kipling would relate to perfection how Stephan Joubert and Leonard Sweet never changed their spots – despite them having told us that they had discarded the Emergent Leopard's spots – and have since learned to blend in with the usual run-of-the-mill critiques of the Emergent Church.
Could it be that Baviaan in Kiplings story advised them "The people (you have been misleading and have since wised up to your deception because you can fool all the people some of the time, and some of the people all the time, but you cannot fool all the people all the time) has gone away for a change and my advice to you (Stephan Joubert and Leonard Sweet) is to change too." The question is – have they changed?
→ PLEASE CLICK HERE TO CONTINUE READING: Leonard Sweet: Changing The Emergent Leopard's Spots THEN PLACE A COMMENT ←