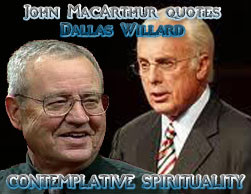 Lighthouse trails published the below article pointing out that John MacArthur favorably quotes Dallas Willard a Contemplative Spiritualist.  It is important to note that Dallas Willad was a Southern Baptist and his theology was Calvinistic.  He says,
"If you were to get to the bottom of my theology you would find me pretty Calvinistic"  — http://www.dwillard.org/articles/artview.asp?artID=92
So why is John MacArthur quoting Contemplative spirituality so favorably?  Because the roots of Calvinism are ESOTERICAL and founded by the known murderer John Calvin.
Please see following articles:  The Legacy of John Calvin – Part 1 / Part 2
John MacArthur Broadcast Favorably Quotes Dallas Willard – Why This is a Bad Move
This past weekend, Lighthouse Trails received the following letter from one of our readers:

→ PLEASE CLICK HERE TO CONTINUE READING: John MacArthur and Dallas Willard – Two Contemplating Calvinists THEN PLACE A COMMENT ←