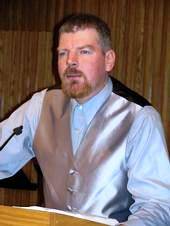 Andrew Strom and J Lee Grady – False Teachers waiting for the Spiritual Revival of the Roman Catholic Church
Andrew Strom has tried desperately to play the role of the 'good guy'.  But I have repeatedly shown him up for what he is;  just another false teacher. See here:  Andrew Strom, Revival School, John the Baptist TV.
Now Andrew Strom sent out this newsletter written by Lee Grady from Charisma Magazine.  Charisma Magazine (owned by Stephen Strang) and Lee Grady are part of the New Apostolic Reformation (NAR).  In fact Andew Strom is also part of the NAR but he will plead differently, yet his doctrine and fruit tell you otherwise.

Andrew's website logo is that of FIRE, we know that Biblically the Holy Spirit is not fire,  see my articles here: The Biblical Holy Spirit vs.The False Unholy Spirit of Fire  and here: Fire of The Holy Spirit – Judgment or Anointing?
————–
The COMING SPIRITUAL TSUNAMI in THE CATHOLIC CHURCH
by J. Lee Grady  [DTW note in Green]
→ PLEASE CLICK HERE TO CONTINUE READING: Andrew Strom and J Lee Grady – False Teachers waiting for the Spiritual Revival of the Roman Catholic Church THEN PLACE A COMMENT ←